If you are looking for Cosyfeet in Bideford or the surrounding areas of North Devon, then come to A M Care. We are the number one supplier of Cosyfeet shoes in the region, for both men and women. The range is extensive, with many colours, styles, fabrics and fastenings to choose from, perfectly tailored to be kind to swollen and sensitive feet. Come on in and try some on for size! If the stock we carry isn't for you then do not worry, we can order in any of the Cosyfeet product range! So, if you are looking for comfortable and long-lasting wide-fit shoes for affordable prices, call the team to discuss our selection.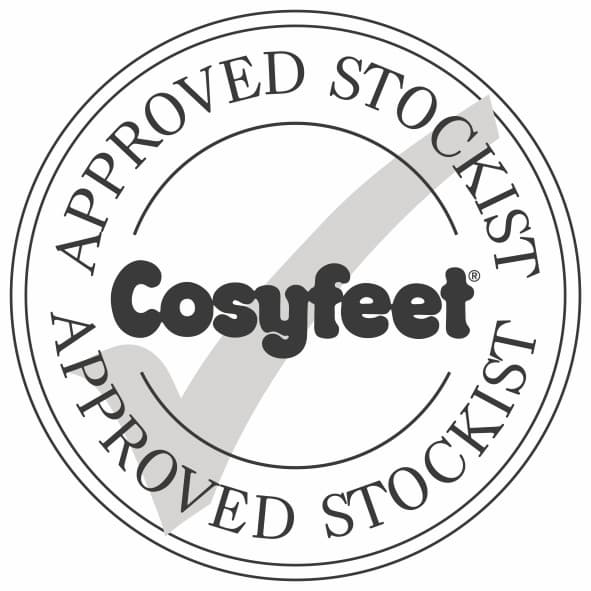 Cosyfeet shoes are one of the leading brands of wide fit shoes, sandals and slippers for men and women. They specialise in making comfortable shoes for swollen feet and other sometimes painful foot conditions, including:
Bunions
Hammertoes
Swelling
Bandaged feet
Misshapen feet
Problem toes
Benefits of Cosyfeet Footwear
Cosyfeet understands feet, which is why A M Care is proud to be the regional supplier of choice in Bideford and North Devon. The benefits of these shoes include:
Extra-wide sizing options (6E for women and 3H for men) and strap extensions
A choice of Leather, Elastane, Fabric, CosyTex™️ and Purewool™️*
Shock-absorbing, flexible and lightweight sole options
Deep sole options for shaped insoles, shoe adaptations and orthotics
Indoor, outdoor, multi-use and slippers among the selection available
Simple to use touch-fastening available in some styles for easy extension
Extension straps, antibacterial hosiery and other accessories are available*
No-quibbles guarantee on all Cosyfeet shoes and slippers
*Contact A M Care for advice and more information regarding shoe specs and accessories
Our wide fit shoes for men include:
Our range of wide fit shoes for women include:
Cosyfeet slippers are designed to provide comfort and support for problem feet. They are all designed to be easy to put on with stretchy fabrics and touch-fastening designs. Furthermore, these slippers are machine washable and the supportive rubber soles make them versatile for both indoor and outdoor use. Many of the Cosyfeet slipper range can also be purchased individually. Just contact A M Care for more information on Cosyfeet in Bideford or anywhere in North Devon, including Braunton, Barnstaple, Torrington and beyond.
Some of the benefits of Cosyfeet slippers include:
Sole, heel and instep support
Super soft lining and durable soles
Touch-fasten fittings and fully opening
Extra roomy sizing with removable insoles
Machine washable
No-quibble money-back guarantees
The men's Cosyfeet slippers come in up to a 3H extra roomy width and our selection includes:
Women's Cosyfeet Slippers
The women's Cosyfeet slippers are available in a 6E extra roomy width, and the choices include:
Contact A M Care today to discuss our wide range of Cosyfeet in Bideford and throughout North Devon. As the regional suppliers of Cosyfeet footwear for both men and women, you can trust us for quality products designed to keep you on your toes. We also supply other mobility aids as well as wheelchair hire, all designed to help keep you mobile.