A M Care have a quality self-propelled and transit selection of wheelchairs in Bideford as well as the Rascal P200 power chair! Furthermore, we can also help to source and supply plenty of alternative makes and models. So, no matter what you are looking for pop in and have a chat with a member of the team. We believe in providing affordable quality to our customers and have become well known in North Devon for our exceptional products and customer service. If you need a new or a replacement wheelchair for yourself or a person in your care, contact our store for advice and support.
Our wheelchair range includes:
Our transit wheelchairs of choice are the Swift and the Escape Lite.
The Swift Transit Wheelchair is a simple yet solid design with brakes on the handles for easy action. Perfect for occasional use, the lightweight frame and compact design makes it easy to transport and store. Meanwhile, the puncture-resistant tyres and superb manoeuvrability make it suitable for both indoor and outdoor use.
Seat dimension – 16″
Chair weight – 10.2 kg
Max capacity – 115 kg / 18 Stone
The Escape Lite is an ideal transit wheelchair to take out and about as it requires very little storage space. The attendant operated braking system is easy to use and the frame is very lightweight for easy manoeuvring. Furthermore, the Escape Lite comes fitted with puncture-proof tyres, as well as adjustable head, arm and leg rests, for comfortable use both indoors and out.
Seat dimension – 18″
Chair weight – 11.5 kg
Max capacity – 100 kg / 15.75 Stone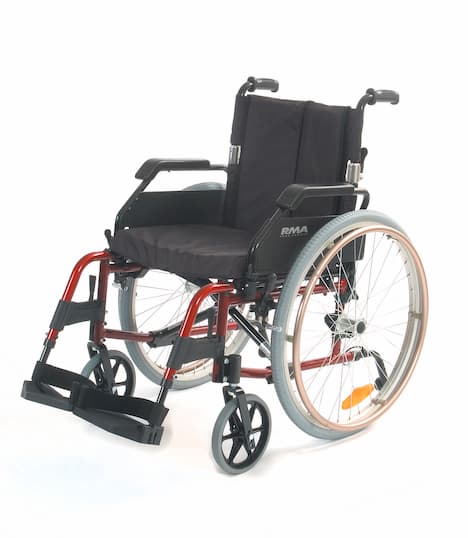 Self-Propelled Wheelchair
The Swift strikes again as our wheelchair of choice for self-propulsion. The Swift Self-Propelled Wheelchair has an aluminium frame providing a strong yet ultra-lightweight design. This occasional-use chair is incredibly compact with quick release rear wheels, making it ideal for transportation with minimal boot space required. Furthermore, the front wheels are fitted with puncture-resistant tyres for outdoor and indoor use.
Seat dimension – 16″
Chair weight – 12.5 kg
Max capacity – 115 kg / 18 Stone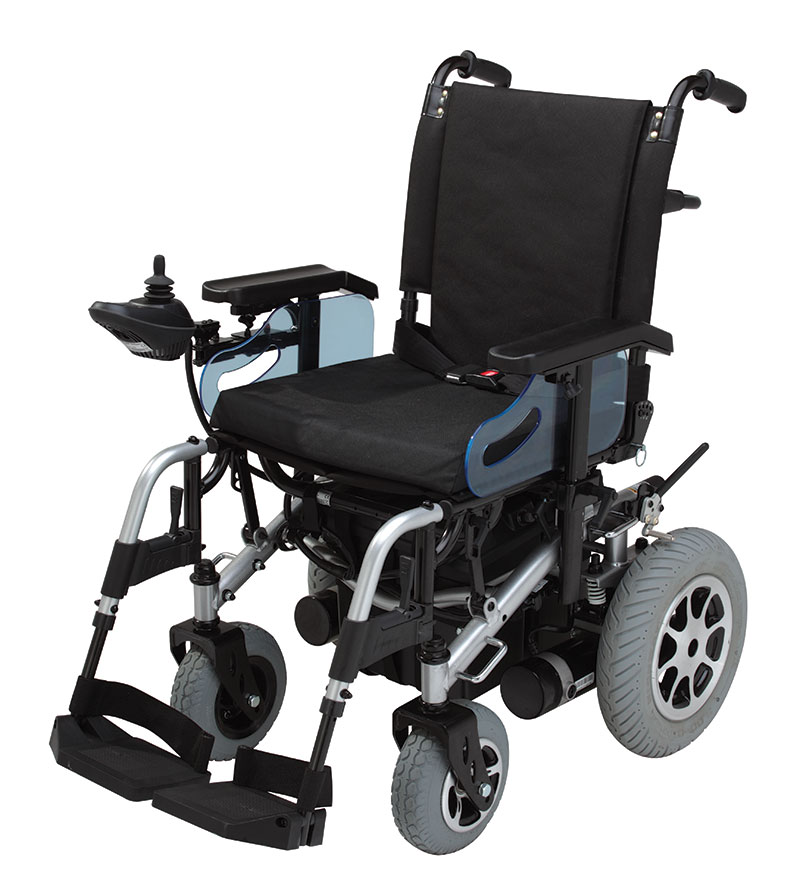 A M Care also supply the Rascal P200 Power Chair. This impressive machine boasts rear-wheel drive and a top speed of 4mph. The 55Ah batteries provide power while the supple and adaptable seating ensures a comfortable ride. Furthermore, the P200 benefits from a number of optional extra features including elevating leg rests, an attendant control bracket and even a kerb climber.
Type Class – B / 2
Maximum capacity – 136 kgs / 21 stone
Top speed –  6.4 km/h / 4 mph
Range – up to 26 km / 16.2 miles
Colour – silver
The wheelchair power pack is designed to aid carers or attendants with transit wheelchair operations. Making manoeuvring on uneven surfaces or up-hill easier. The pack comes complete with battery and mounting brackets, and can be used for wheelchair users weighing up to 136kg. Ask in store for more information. 
Where Can I Hire A Wheelchair?
Looking to hire a wheelchair in North Devon? Call A M Care, we supply wheelchair hire as well as mobility scooter hire for varying duration depending on your needs. Call us or pop in-store to discuss our hire options.
For power chairs and wheelchairs in Bideford, as well as Bude, Torrington, Holsworthy and elsewhere in North Devon, call A M Care today.